On May 13, 1981,Pope John Paul II was shot and seriously wounded as the pontiff rode through St. Peter's Square in an open car. To mark the anniversary of this attempted assassination, try your luck with our trivia questions to see how much you know about this tragic event...
Who Was the Pope's Assailant?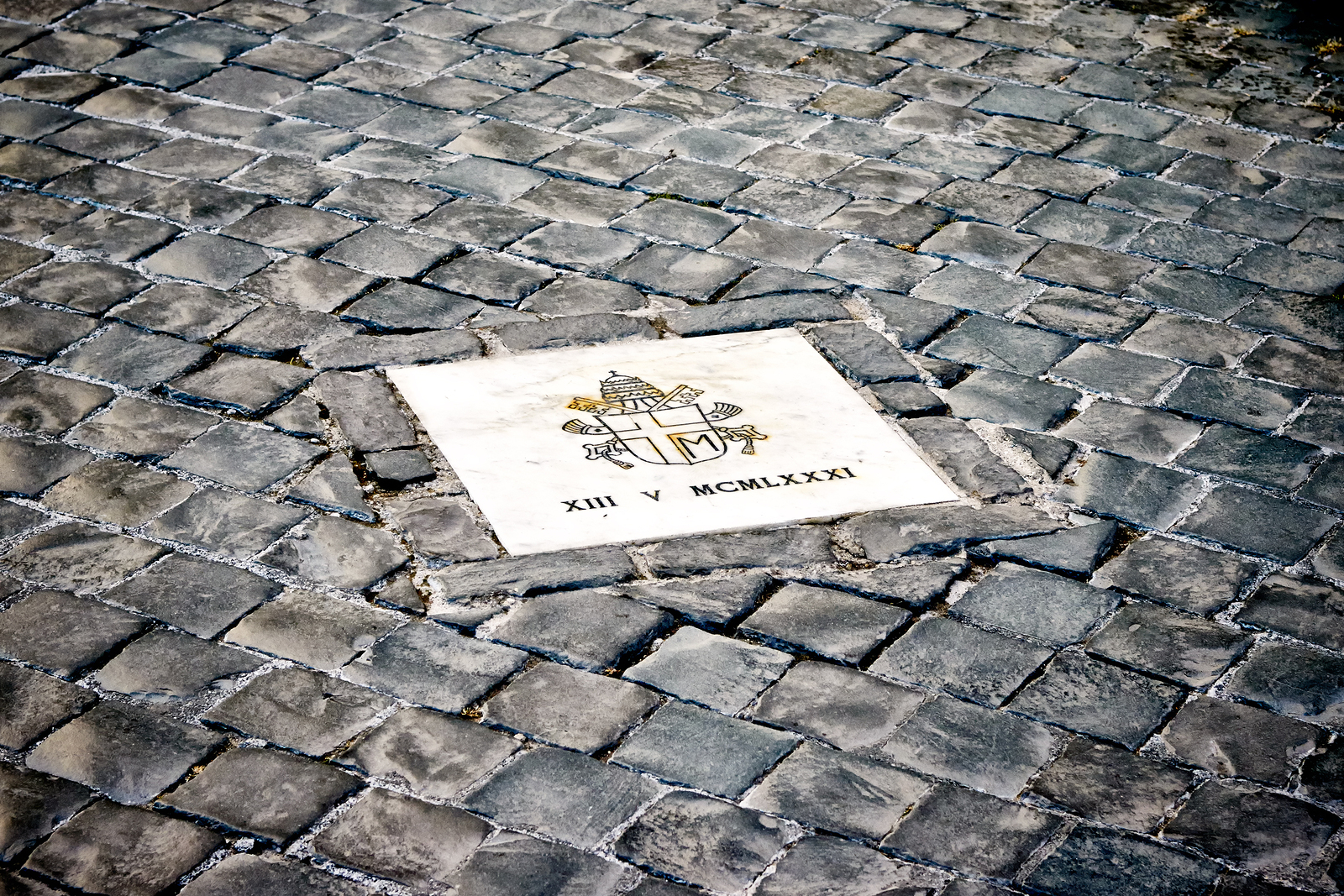 This plaque set among the cobble stones of St. Peter's Square marks the exact spot of the assassination attempt on Pope John Paul II. Pope John Paul II's would-be assassin was arrested only minutes after the shooting as he attempted to flee the scene. He was identified by police as 23-year-old Mehmet Ali Agca, a convicted murderer who had escaped from a Turkish military prison in the latter half of 1979. Agca was serving a life sentence in Turkey for the February 1979 assassination of Abdi Ipekci, the prominent editor-in-chief of the center-left Turkish newspaper "Milliyet." Agca was born in Hekimhan, Turkey, on January 9, 1958, and was reportedly a member of the Grey Wolves, a far-right Turkish organization that targeted Ipekci for assassination.
How Badly Was the Pope Injured?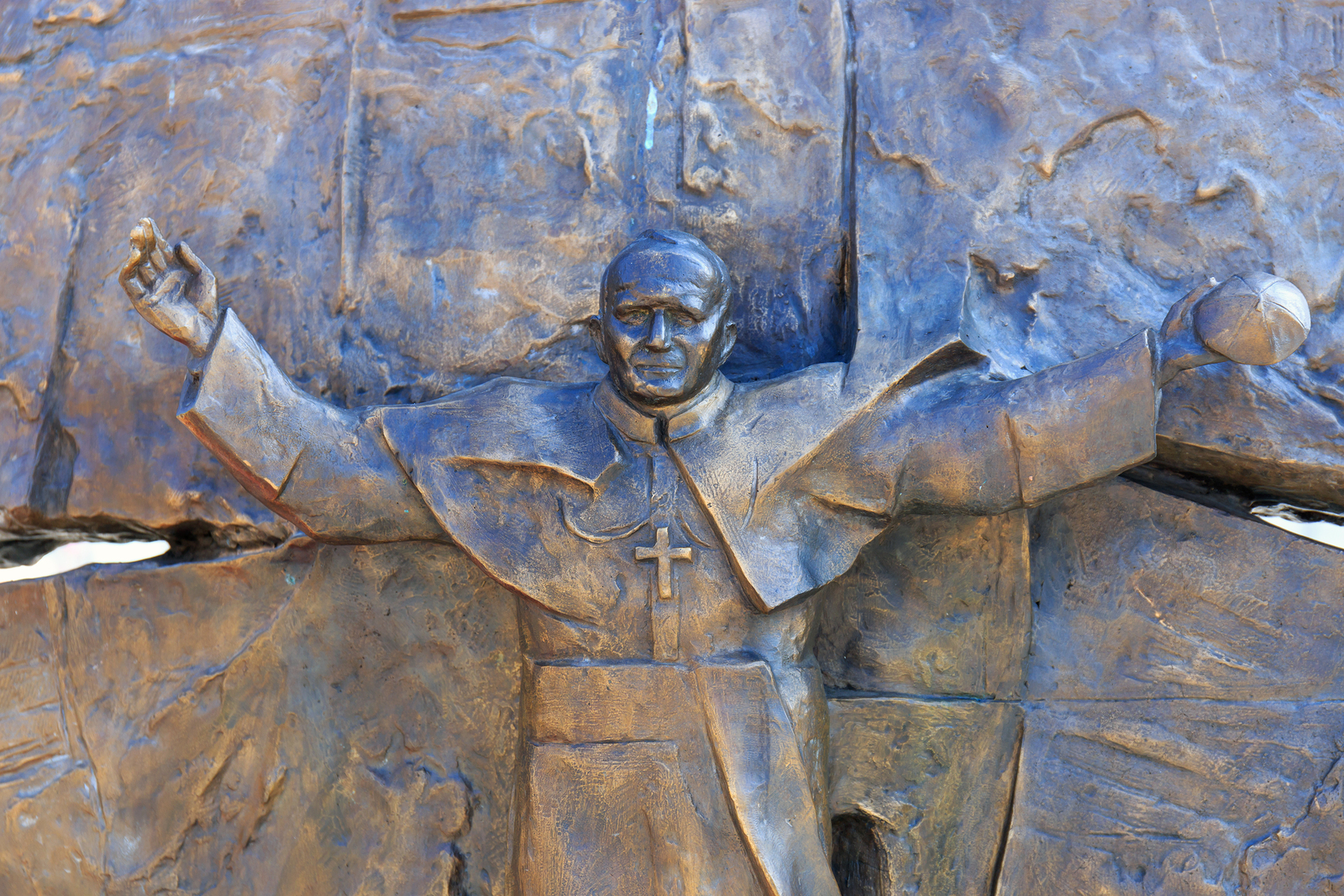 This sculpture of Pope John Paul II is located in the Polish city of Wadowice, the pontiff's birthplace. Agca fired four bullets at the pope. However, reports vary as to how many actually struck John Paul II. The pope was wounded in the abdomen, as well as his right arm and left hand. Also injured in the shooting were two bystanders, part of a crowd of about 10,000 that had gathered in the square to see the pope pass. The others injured in the shooting were 60-year-old Ann Odre, an American tourist from Buffalo, New York, and Rose Hill, a 21-year-old visitor from Jamaica. The wounded pope was rushed from St. Peter's Square in the heart of Vatican City to Rome's Gemelli Hospital, which lies roughly two miles north of the shooting site. Initial reports from the hospital indicated that the pope was in "guarded" condition, although the hospital's director of surgery expressed confidence that John Paul II would recover soon.
What Became of Agca? In the aftermath of the assassination attempt, Agca was tried and sentenced in July 1981 to life imprisonment in Italy. In January 1983, Pope John Paul II visited Agca in prison where the two talked privately. Earlier, the pontiff had urged Catholics everywhere to "pray for my brother [Agca] . . . whom I have sincerely forgiven." A warm relationship developed between the pope and his would-be killer. They stayed in touch, and when the pope fell gravely ill in early 2005, Agca sent the pontiff a letter wishing him well. Agca remained in prison in Italy until June 2000 when Italian President Carlo Ciampi pardoned him at the pope's request. He was then extradited back to Turkey and imprisoned there to serve out the remainder of his term for the murder of Ipekci. He was released on parole in January 2006 but only days later was sent back to prison where he stayed until January 2010. In December 2014, Agca traveled to the Vatican to lay roses on the tomb of Pope John Paul II.
What Happened to John Paul II's Predecessor? Pope John Paul I was selected by the College of Cardinals to succeed Pope Paul VI who died on August 6, 1978. John Paul I took over as pontiff on August 26, 1978, but died 33 days later. His reign as pope was among the shortest in history, and his sudden death gave rise to a number of conspiracy theories speculating that the pontiff had been the victim of foul play. Although a Vatican doctor attributed John Paul I's death to a heart attack, such theories continue to circulate.