On October 10th, 1973, Richard Nixon's Vice President, Spiro T. Agnew, resigned his office amidst a federal indictment. Today we decided to take a closer look at his lesser known right-hand man with these trivia questions...
What Else Did Agnew Do the Day He Resigned as Vice President?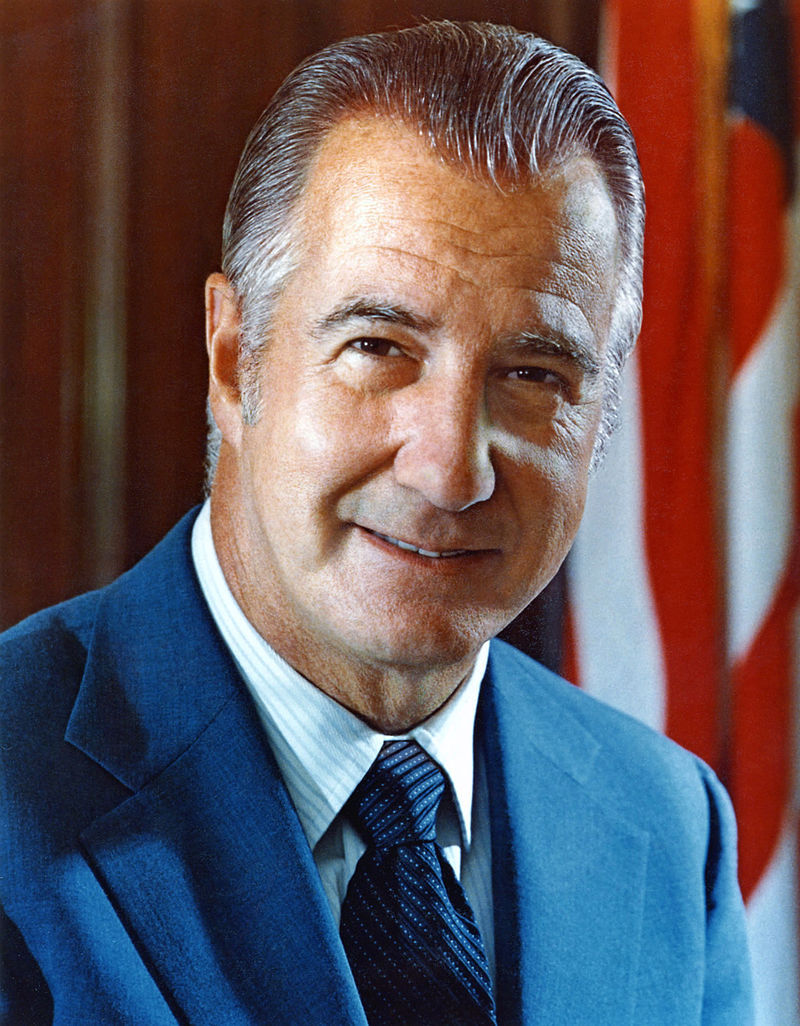 Here's a picture of Agnew, demonstrating he's the clear favorite in any competition of VPs who look the most like their president. He appeared in court. Agnew had been under investigation in Maryland by the U.S. Attorney for suspicion of tax fraud, bribery, conspiracy and extortion. He had previously served as governor of Maryland and as Baltimore County Executive and resigned his position as governor to become Richard Nixon's vice president in 1969.

The allegations grew that Agnew had not only received money illegally while in office as Baltimore County Executive but continued to do so during his tenure as governor of Maryland and as vice president. The money he received was reportedly for past favors.

Agnew pleaded no contest to the charge of income tax evasion and was ordered to pay back $160,000 to the Internal Revenue Service, which he borrowed from singer Frank Sinatra. He was also fined $10,000 and received a suspended sentence and probation for three years; however, it wasn't supervised. In return, the federal government agreed to not pursue the additional charges.
What Had Been the Basis for the Charges?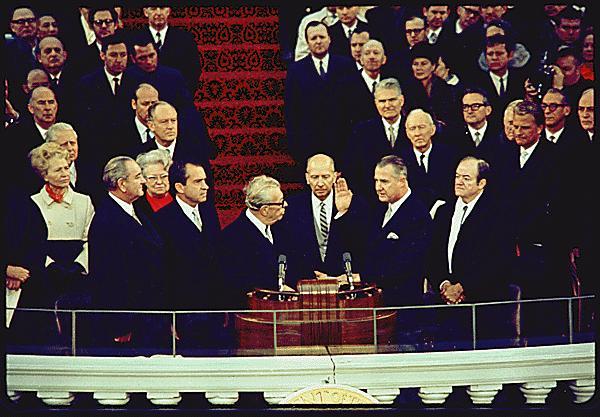 Spiro Agnew at his swearing-in ceremony in 1969. Lyndon Johnson, Richard Nixon, Everett Dirksen and Hubert Humphrey are also present. The U.S. Attorney's Office, located in Baltimore, was investigating charges that Agnew had received payoffs during his tenure as Baltimore County Executive from local contractors who were doing work for the county. He was also accused of having accepted money from engineering firms that had been awarded contracts while he was governor and while he was serving as vice president. Reportedly, money had even crossed hands in the amount of several payments of $2,000 at his office.

Toward the end of July, he received a letter from the Maryland U.S. Attorney, George Beall, stating that he was being investigated for bribery, extortion and conspiracy. In Maryland, prosecutors found witnesses willing to talk about Agnew's corruption. One headed the road commission for the county and said he kept extensive documentation of Agnew's corruption. Another said that he had met with Agnew personally to hand him $10,000 in payoffs.
What Was the Name of the Book Agnew Wrote about his Resignation? Needing to make some money after all this, Agnew took up writing. He wrote one book called The Canfield Decision which was about a vice president. Then he wrote a second book about another vice president: himself. It detailed the events leading up to his resignation, a resignation which he said wasn't his choice. It was called, fittingly, Go Quietly... or Else.
After Resigning, When Was the Next Time Agnew Saw Nixon? As Agnew put it, Nixon "naively believed that by throwing me to the wolves, he had appeased his enemies." Agnew felt abandoned and rejected every one of Nixon's attempts to meet and talk about what happened. When he finally did see Nixon again, it was in 1994. At the president's funeral. "I decided after 20 years of resentment to put it all aside," he said. Agnew passed away himself a couple years later.