Happy National Pizza Day folks! February 9 is National Pizza Day, one of those national food days that makes everyone happy. Try your luck with these somewhat cheesy trivia questions in honor of National Pizza Day...
Where Was the First Pizzeria in the United States?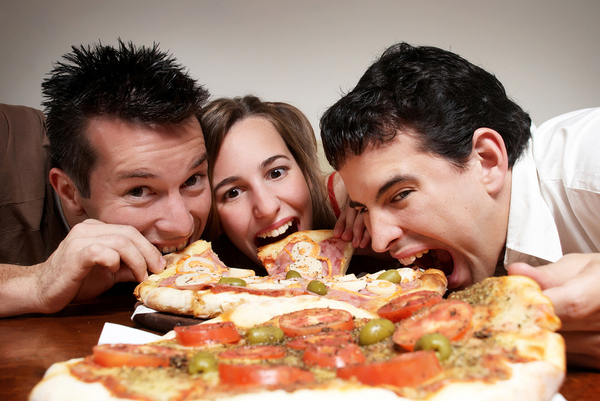 When Mom asks what you had for dinner, just say meat, dairy, grain and vegetables. She'll be pleased you're eating a balanced diet.
February 9 is celebrated as National Pizza Day, and Americans can thank Lombardi's, founded by Gennaro Lombardi, which opened the first pizzeria in New York in 1905 to serve Neapolitan-style pizzas. Located in the Little Italy section of Manhattan, it's still in business today. Back in earlier times, pizzas were made by bakeries as a way to use ovens after the morning bread baking was completed. After Lombardi opened the pizzeria in 1905, it was a walk in and carry out establishment. Chairs and tables weren't added until the 1930s.
What is The World Record For The Longest Pizza?
According to the Guinness, the longest pizza measured 6,333 feet in length and was achieved by a team of over 100 people in California last year over the course of 54 hours. The record-breaking challenge was organized by Pizza Ovens, a business providing restaurant equipment. The pizza was made using approximately 17,700 pounds of dough, 5,000 pounds of tomato sauce and 3,900 pounds of mozzarella cheese. To cook the 1.3-mile-long pizza, a special, mobile oven reaching 1,000 degrees drove over it. The mozzarella-covered monster was big enough to feed around 10,000 people. The previous record holder was a 6,080 feet pizza created by 250 chefs who took on the challenge in Naples in May 2016.
What is The World's Largest Pizza Chain With Over 16,000 Locations Worldwide?
Pizza Hut is a subsidiary of Yum! Brands, and is the world's largest pizza company with nearly 16,000 restaurants in more than 86 countries and territories worldwide. Pizza Hut was founded in June 1958 by two Wichita State University students, brothers Dan and Frank Carney, as a single location in Wichita, Kansas. The brothers borrowed $600 from their mother and opened a pizza restaurant catering to students after a local real estate agent with an unrented building convinced them that pizza would be a promising business. By 1977, Pizza Hut had grown to 4,000 outlets and the brothers decided to sell the business to PepsiCo for over $300 million. Frank remained the president and a board member of Pizza Hut until 1980.
How Do Pizza Ingredients Vary Around the World?
The Danes like to put horse meat on their pizzas, while in Costa Rica, shrimp and coconut are popular toppings. Russians like to add sardines, mackerel, tuna, onion, red herring and salmon. Brazilians prefer topping their pies with peas, quail eggs, carrots, raisins and beets. The Japanese tend to make smaller pizzas and top them with squid, cabbage, noodles and pork. Okonomiyaki sauce and fried eggs are usually placed on top of the noodles. In Australia, try kangaroo pizza, or if kangaroo doesn't suit your palate, try emu or crocodile pizza. Chicken tandoori is a popular dish in India and serves as a tasty pizza topping there, along with paneer (cottage cheese) and pickled ginger and all topped off with lots of mayo. In Great Britain, try haggis pizza, topped with cavolo nero (black kale), haggis (a pudding made of sheep organs, oatmeal, onion and spices), mozzarella and black chili jam.