On June 12, 1942, Anne Frank received a diary as a gift for her birthday, which she wrote in while she and her family were hidden in an attic from the Nazis. Here we round up 5 important facts that you probably didn't know about Anne Frank and her diary...
The Diary of Anne Frank Was an Autograph Book.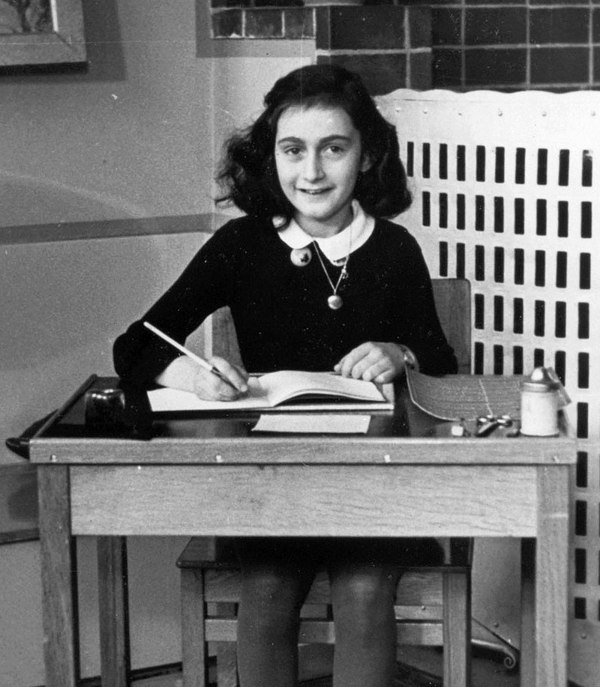 Anne Frank attended Montessori school in Amsterdam after she and her family escaped Germany, thinking they would be safe in the Netherlands. Photo source: WikiCommons Frank started writing in her so-called diary on her 13th birthday and continued writing for the next two years until her family's hiding place was discovered. Many of the entries were long letters to her imaginary friend Kitty. She also wrote stories and used a separate notebook to write down quotes that she liked.
Frank's Father Had Been a German Army Officer.
Anne Frank kept her autograph book as a diary, along with other notebooks, until she and the others in hiding were discovered. Photo source: WikiCommons In 1915, Otto Frank was drafted into the German army during World War I, as were his brothers. He served on the western front and obtained the rank of lieutenant. His sister and his mother worked as volunteers in Frankfurt, Germany, at a hospital for the military.
The Nazi Officer Who Was Responsible for the Arrest of the Franks Bought a Copy of Anne's Book. Karl Josef Silberbauer was an officer with the Gestapo and was head of the squad that arrested the Franks and others hiding in the annex on August 4, 1944. He later admitted he had bought a copy of Frank's book to see if he had been mentioned by name. Following the war, Silberbauer went on to do intelligence work in West Germany, reporting on communist groups and Nazi organizations that were still functioning.
Anne's Father Was the Only One to Survive the War. Anne and her sister were transferred from Auschwitz to Bergen-Belsen, while their mother, Edith, remained at Auschwitz where she died from starvation. Anne and her sister, Margot, are believed to have died from typhus a short time before the concentration camp was liberated. The van Pels family and Fritz Pfeffer, with whom the Franks were in hiding, also perished. Auguste van Pels was murdered while on her way to a concentration camp. Hermann van Pels, was gassed, and his son, Peter, died of unknown causes, while Fritz Pfeffer died of illness.
The Person Who Betrayed the Franks' Hiding Place Was Never Discovered. Anne Frank suspected that Lena Hartog-Van Bladeren, whose husband worked for Otto Frank's company, might have been the person who betrayed them, although the woman later denied it. Tonny Ahlers has been suspected since he had been blackmailing Otto Frank for his negative comments about the Nazis. Otto Frank suspected a newly hired employee named Willem van Maaren, who seemed suspicious and would set traps using bits of paper and other items to see if anyone was in the building at night.