On October 20, 1944, Douglas MacArthur returned with troops to the Philippines to wrest the country from its Japanese occupation, keeping his promise of "I shall return." Here are 5 things you might not know about General MacArthur...
MacArthur Achieved the Third Highest Score in the History of West Point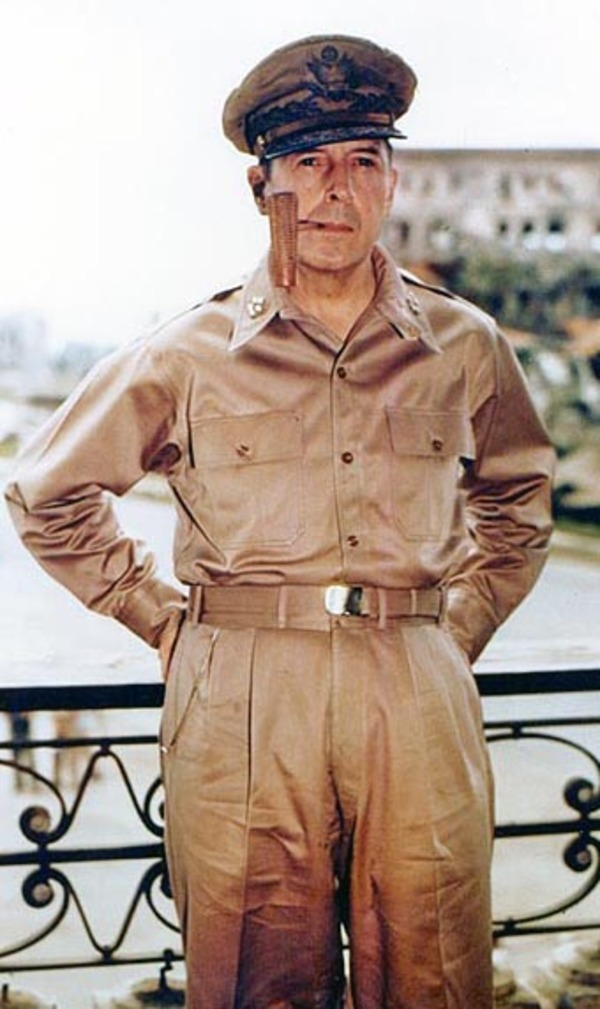 General MacArthur developed a style all his own and was distinctive with his Ray-Ban sunglasses and corncob pipe. Image source: WikiCommons In 1899, MacArthur entered West Point and graduated in June 1903 as its top student that year with 2,424 academic merits out of the maximum of 2,470. This score still stands as the third highest in the history of the academy. The highest scores are held by Charles Mason, a supreme court judge who lived in Iowa, and General Robert E. Lee, who led the Confederate troops during the Civil War.
Both MacArthur and His Father Were Awarded the Medal of Honor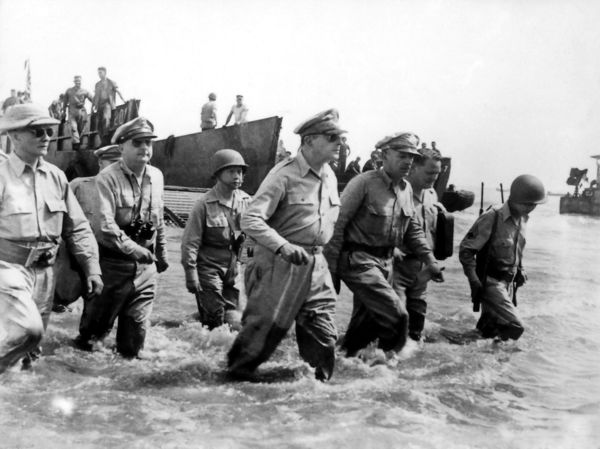 This iconic photo of General MacArthur pictures him with the president of the Philippines, Sergio Osmena, as he wades ashore at Leyte. Image source: WikiCommons They hold the honor of being the first father and son duo to receive this award. Arthur MacArthur, Jr. was a soldier with the Wisconsin Union Army and was at the Battle of Missionary Ridge, where, singing "On Wisconsin," he ran up the hill and planted his regimental flag. About 70 years in the future, his son received the Medal of Honor for his outstanding leadership during the invasion of the Philippines during World War II.
He Was Given a Ticker Tape Parade Even Though He Had Been Fired President Truman fired MacArthur because he had been pushing Congress to take over North Korea, which was against Truman's wish to bring the Korean War to a close. Truman believed that continuing the conflict might lead to World War II, but MacArthur would not back down from his stance. Returning to the United States, MacArthur was treated to a ticker tape parade in Manhattan anyway due to his popularity.
In 1928, MacArthur Presided Over the Olympic Committee The president of the Olympic Committee died in 1927, and MacArthur took over as president in time for the 1928 Summer Games in Amsterdam. Always competitive, he told the participating athletes that they didn't come to the games to lose. His pep talk must have worked because the teams for the United States went home with 17 Olympic records and seven world records—two times the number of records of any of the other countries.
He Was One of Few American Military Leaders to Be Awarded a Five-Star Rank Nine generals and admirals were raised to the rank of five-stars, including Douglas MacArthur. The others were Admirals William Leahy, Ernest King, Chester Nimitz and William Halsey, Jr., along with Generals George Marshall, Dwight Eisenhower, Henry Arnold, Omar Bradley and John J. Pershing.