On July 5, 1975, Arthur Ashe became the first African-American man to win a singles title at Wimbledon. To mark the anniversary of his unprecedented achievement, here are five things you didn't know about Arthur Ashe....

This Was Not His First "First."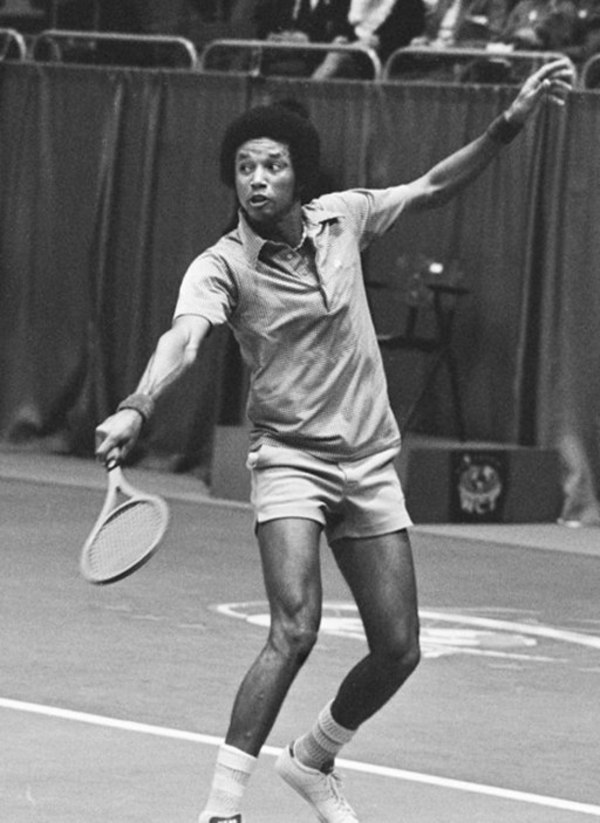 Photo source: By Bogaerts, Rob / Anefo [CC BY-SA 3.0 nl (https://creativecommons.org/licenses/by-sa/3.0/nl/deed.en)], via Wikimedia Commons. Wimbledon may be a crowning glory for tennis players, but it was not Ashe's first "first" by any means. Ashe was also the first African American to: be on the U.S. Davis Cup team, win the U.S. Open title (1968), get a visa to and play in South Africa during apartheid (1973), win the Australian Open (1970), and be inducted into the International Tennis Hall of Fame (1985). Ashe was a five-time Grand Slam champion and had 47 titles over the course of his tennis career.
Ashe Played in South Africa as a Way to Try to Fight Apartheid.
Ashe was a tireless activist for many causes, especially after he retired from tennis. Photo credit: By White House Photographic Office [Public domain], via Wikimedia Commons. In 1973, Ashe managed to get a visa to South Africa, then in the grip of apartheid. While the boycott movement (which meant to force South Africa to abandon apartheid) was in full swing at that point, Ashe tried not to boycott, instead hoping that by playing there, the country would loosen up a bit. Ashe was repeatedly turned down for a visa until 1973 when he was able to play in that country's national championships. However, he eventually joined the boycott movement in the late 1970s.
Ashe Was Also a Historian. After he retired from tennis, Ashe turned his attention to both his health (he'd had a heart attack in his 30s) and to history. He wrote a three-volume series of history books about Black athletes in the United States and what their struggles were like. The volumes were published in 1988 and called A Hard Road to Glory. Ashe noted that his desire to write the books grew after finding out that no comprehensive histories chronicled what Black athletes had gone through.
He Became an AIDS Activist After Contracting the Disease From a Blood Transfusion. Ashe had his first heart attack in 1979 and a second in the early '80s. As a result, he had double-bypass surgery in 1983, and it was during that surgery that Ashe received contaminated blood during a transfusion. He developed AIDS, which was formally diagnosed in 1988, and he eventually died from AIDS-related pneumonia in 1993. In that five-year span, though, Ashe became a dedicated activist.
Ashe Served in the Army in the Late 1960s—but His Veteran Brother Saved Him From Vietnam. Like many young men in the 1960s, Ashe served in the Army. However, he was able to avoid being sent to Vietnam because his brother, who was in the Marines, decided to head back to Vietnam a second time. His brother, Johnnie, had already served overseas and came home, but he knew that Arthur was at risk of being sent to Vietnam himself. Because the government had a policy that stopped siblings from being at war simultaneously, Arthur stayed in the United States while Johnnie returned to Vietnam. Johnnie, luckily, survived.