On this day in 2003, Bob Hope turned 100 years old. Dubbed "Mr. Entertainment" and the "King of Comedy," Hope died less than two months after his 100th birthday celebration. Here are five things you didn't know about Bob Hope...
Hope Had 35 Official State Birthday Honors but Couldn't Attend Any of the Ceremonies.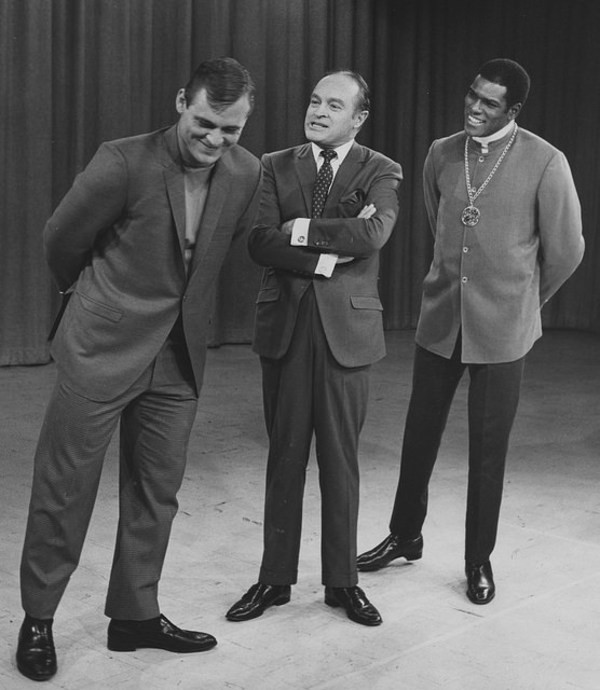 Bob Hope started back in vaudeville and rose quickly through the radio, movie, and TV ranks to become a comedy legend. Photo credit: Brian Crawford/Flickr. In honor of Hope's 100th birthday, 35 states, including California, declared May 29 as Bob Hope Day (or a similar name). Hope, though, was in rather poor health and had also been having trouble with his hearing and sight. Some of his children went to the Hollywood celebration in his place.
His Childhood and Teen Years Didn't Exactly Make People Think He'd Be a Star.
Hope's work with U.S. troop entertainment lasted well into his later years. Photo credit: Lietmotiv/Flickr. Hope had a number of marks against him early on. One was that he was an immigrant, and having a British accent as a child did not win him much admiration in Ohio, where his family moved after coming to the U.S. In fact, he was bullied mercilessly. Another problem was that his original first name was Leslie, and his attempt to nickname himself Les got him bullied even more, with kids calling him "Hopeless." (As in "Hope" + "Les.") And while his family was supportive—his mother was a former singer, and Hope himself was a talented mimic as a child—he still got into trouble, actually spending time in reform school, which was something he didn't like to talk about.
Technically, He Could Have Been Sir Bob. Hope was given an honorary KBE, or Knight Commander of the Most Excellent Order of the British Empire. Had Hope remained a British citizen, he technically could have called himself Sir Bob (as the convention often is to use "Sir" or "Dame" with a first name). However, because Hope became a U.S. citizen in 1920, he was not allowed to use the title "Sir."
Without Bob Hope, There Would Have Been No Tony Bennett. Singer Tony Bennett is so ubiquitous now that it's hard to imagine a time when he was struggling. But there was a time like that, and Bob Hope was the one who got Bennett out of that trap. Bennett had been working under the stage name of Joe Barry, and while his voice was good, the name seemed off. Hope advised him to choose a stage name closer to his birth name (Benedetto) and came up with Tony Bennett.
Hope's Wartime Tours Nearly Got Him Killed More Than Once. One of Hope's enduring legacies was his work with the USO, touring bases and entertaining troops overseas. This started during World War II and continued for decades. But it wasn't all a big joke; his tours nearly led to his death, either from questionable transportation (such as a plane that barely made it to Alaska in one piece) or outright war (dodging plane crash debris in North Africa; enduring bombings in both North Africa and Italy).