On this day in 1953, U.S. Senator John F. Kennedy, future president of the United States, married Jacqueline Bouvier in a lavish ceremony in Newport, Rhode Island. To mark the anniversary of this happy occasion, here are five things you didn't know about JFK's Marriage to Jacqueline Bouvier...
The Dress Was a Hit—And a Last-Minute Re-creation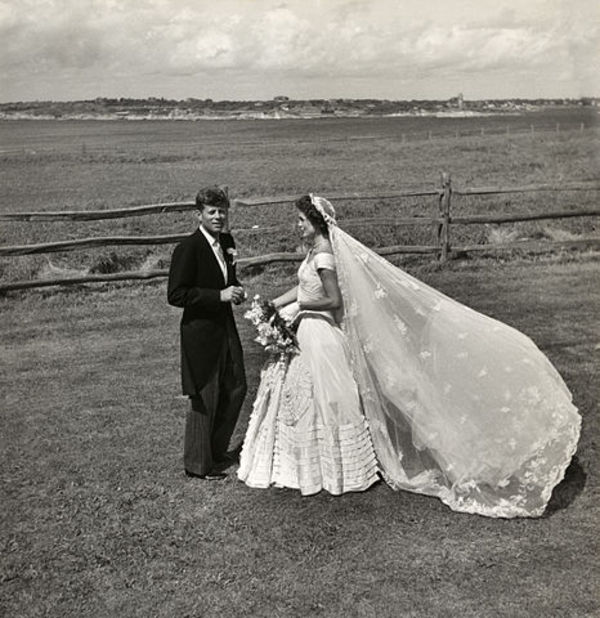 Photo credit: By Toni Frissell - This image is available from the United States Library of Congress's Prints and Photographs division under the digital ID cph.3g04892. The wedding dress wasn't Jacqueline Bouvier's favorite choice—and she didn't really like the dress, really—but she committed to wearing it. It turns out she almost wasn't able to because a burst pipe in the designer's studio ruined the original dress. The designer and her assistants had to work frantically for several days to replace the dress right before the wedding.
The Photo of Them Cutting Their Wedding Cake Doesn't Show the True Height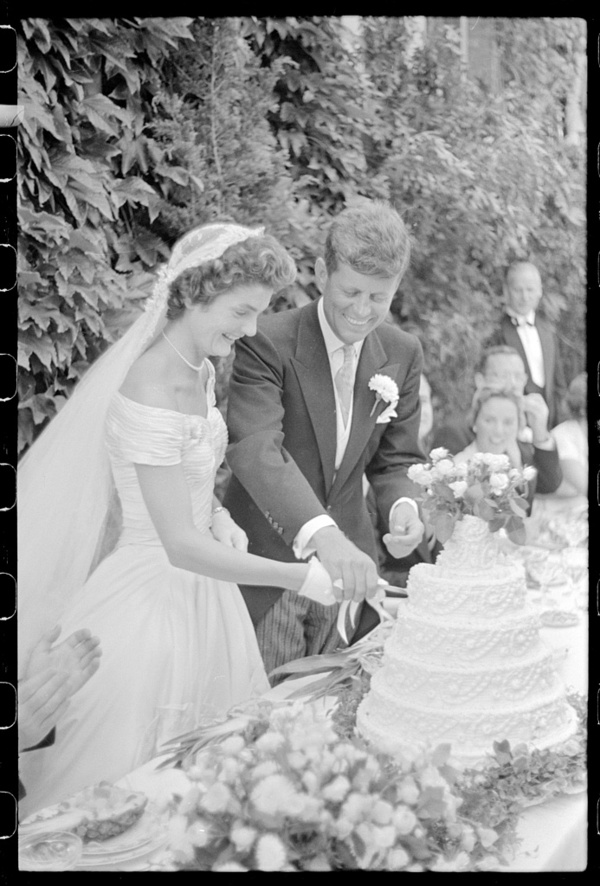 Photo credit: Frissell, Toni, photographer. There's a very nice photo of the young couple slicing into a modest-looking wedding cake as family members look on. However, that photo does not show the true size of the cake. In keeping with the large size of the reception, the actual cake was four feet tall.
Jacqueline Bouvier Had to Seriously Think About Marriage to John—Because of an Allergy Jacqueline Bouvier was an avid horsewoman. She adored her horses and couldn't imagine being with someone who couldn't be around the animals. But that's exactly what happened with John Kennedy, who turned out to be allergic to horses. The two married anyway and managed to work things out even though John couldn't go horseback riding, which was one of Jacqueline's favorite pastimes.
Jacqueline's Stepfather "Gave" Her Away—at the Last Minute While the tradition of "giving" away the bride is starting to fall out of favor, back in 1953 it was still the normal thing to do at a wedding. However, the bride's father, who was originally supposed to have that duty, got very, very drunk the morning of the wedding. The bride's stepfather was able to step in.
John Learned the Hard Way Not to Play Around Right Before an Important Event It's one thing to try to blow off steam when you're nervous about getting married. But playing touch football on the morning of the wedding (What is it with the morning of the wedding? Why is that the time when people do bizarre things?) is not a good idea, as John Kennedy found out. During the game, he was sent sprawling into a rose bush, resulting in scratches on his face. Luckily these did not cause any cancellations or postponements, but take Kennedy's injury as a warning not to do risky things on the morning of your wedding!