On July 9, 1962, Bob Dylan recorded the song that would make him a superstar: "Blowin' in the Wind." To celebrate one of the greatest protest anthems in history, here are five things you probably didn't know about Bob Dylan...
People Thought He Stole "Blowin' in the Wind" from a High School Student.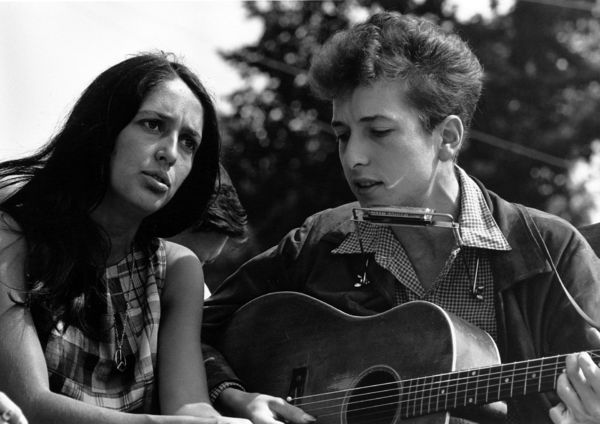 Bob Dylan with Joan Baez in 1963, the year after recording "Blowin' in the Wind." Image source: WikiCommons Nearly a year passed between the time Bob Dylan recorded "Blowin' in the Wind" on July 9, 1962, and released the album, Freewheelin' Bob Dylan, on May 27, 1963. During that time, a small magazine published Dylan's lyrics and musical arrangement for the song and a young high school student from New Jersey played the tune to a packed house at his local talent show. When the song showed up on Bob Dylan's record 10 months later, people suspected Dylan paid the kid off for rights to the song (even though the kid himself vehemently denied it).
The Agent Who Signed Him Also Discovered Aretha Franklin, Billie Holiday, and Bruce Springsteen.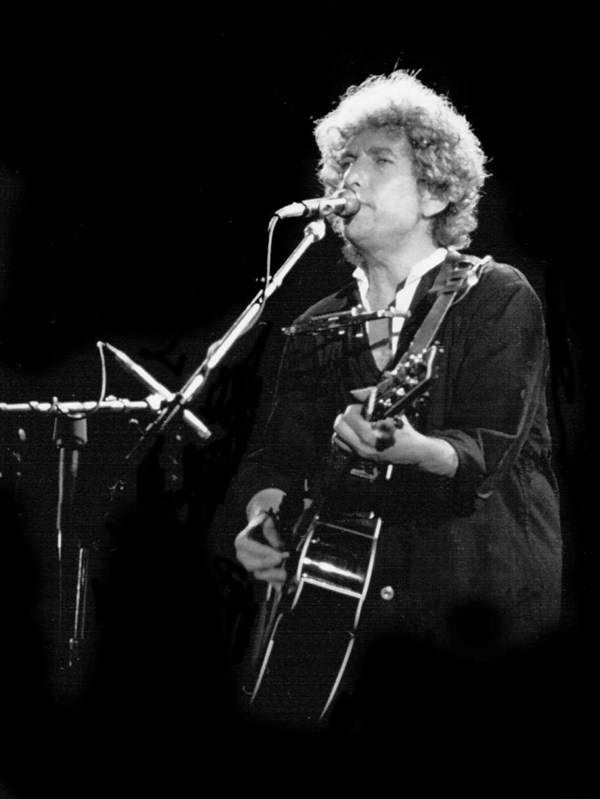 Bob Dylan live in 1981 in Barcelona. Image source: WikiCommons John Hammond had quite the ear for future superstars. Despite the fact that one executive at Columbia Records said Dylan's voice was "the most horrible thing I've ever heard in my life," Hammond went with his gut and signed the young singer-songwriter after hearing him play harmonica on a Carolyn Hester album. Dylan almost lost the contract after his debut album flopped, meaning the world may not have ever heard "Blowin' in the Wind." Thankfully, the "Man in Black" himself, Johnny Cash, stepped in and urged Hammond to keep Dylan on Columbia's roster.
He Was Almost Elston Gunn, Not Bob Dylan. Most Dylan fans know that his real name is actually Robert Zimmerman. But few know that in the early days of his music career, Dylan tried a different alias: Elston Gunn. While working at a diner in North Dakota after high school, Dylan managed to convince Bobby Vee's band, The Shadows, that he had enough piano chops to play keyboards in the band (spoiler: he didn't—he lied about playing with Conway Twitty and his keyboard skills). During his brief run in the band, Dylan donned his alter-ego before the whole band ran out of money and he moved to Minneapolis.
He Wanted to Play Keys for Little Richard. Dylan graduated high school in 1959 (despite the fact that he no-showed for his own graduation party). In his high school yearbook, his life goal reads "play in Little Richard." According to sources, the note was a little bit tongue-in-cheek: apparently, Dylan's high school band played a Little Richard cover at the school talent show in 1956, only to have the school principal cut the lights and pull the curtain on them. Needless to say, Dylan exceeded this life goal by far.
He Got The Beatles Into Pot. For years, Paul, John, George, and Ringo were strictly Scotch and Coke fans. But after meeting Dylan in New York City in 1964, the group quickly turned toward a more "psychedelic" way to loosen up after shows. Though their encounter with Dylan wasn't the first time they had smoked marijuana, it was the first time they enjoyed it. So much, in fact, that Paul McCartney recalls asking the tour manager to write down everything that happened in a notebook. Those notebooks were later confiscated by police.