On July 12, 1984, Democratic presidential candidate Walter F. Mondale named New York Congresswoman Geraldine A. Ferraro his running mate, making her the first woman to run on a major party ticket. Here are five other interesting facts about Ferraro that you may not have known...
She Left Office Shortly After Losing the 1984 Election.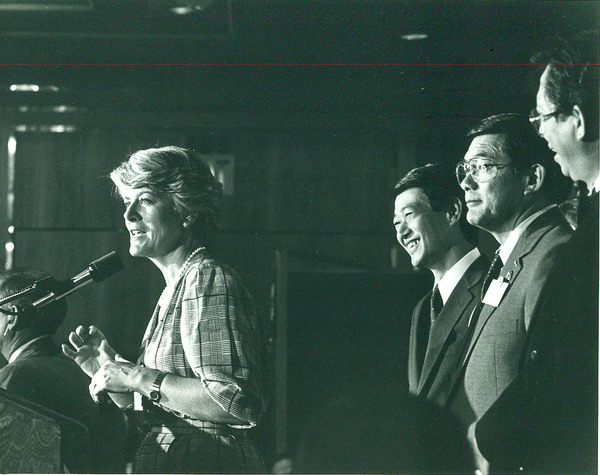 Ferraro speaking at the 1984 Democratic Convention. Image source: WikiCommons Despite the momentary boost in the ratings when Mondale announced Ferraro as his running mate, the Reagan-Bush ticket won the 1984 election by a landslide—Reagan secured 525 electoral college votes while Mondale received just 13 (yikes). But while Mondale was able to lick his wounds and return to life as a private citizen in Minneapolis, Ferraro had to return to The Hill and finish out her term in the U.S. House of Representatives. She left her seat in 1985 and spent the rest of the 80s away from politics before two unsuccessful bids for Senate seats in 1992 and 1998.
She Worked For Bill Clinton Throughout His Presidency.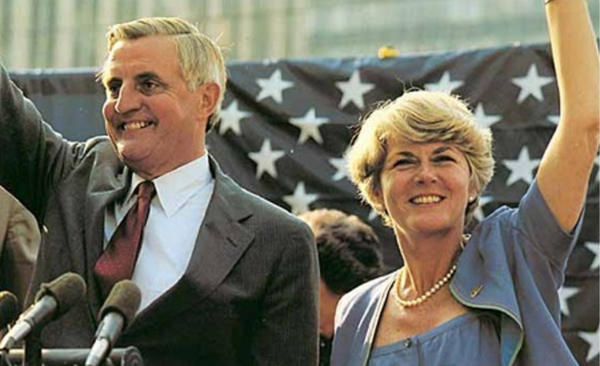 Ferraro alongside her presidential running mate, Walter Mondale, during the 1984 election. Image source: WikiCommons Ferraro served as an alternate delegate to the World Conference on Human Rights in 1993 and was officially appointed U.S. ambassador to the United Nations Human Rights Commission by President Clinton a year later. Later in the Clinton presidency, Ferraro shifted gears to a role more in the spotlight—she became co-host (alongside Pat Buchanan) of CNN's Crossfire from 1996 to 1998. But Ferraro never lost touch with the Clintons, and in 2008, she'd play a big role in Clinton's presidential bid.
She Got in Some Hot Water for Racially Charged Comments About Obama. Ferraro was a hardcore Clinton supporter during the 2008 Democratic primaries, going so far as to take an honorary post on Clinton's fundraising committee. But in March of 2008, Ferraro became a bit more a liability to Clinton than a help when she stated in an interview that "if Obama was a white man, he would not be in this position. And if he was a woman (of any color), he would not be in this position. He happens to be very lucky to be who he is. And the country is caught up in the concept." Ferraro resigned her post shortly thereafter following a barrage of outrage from Obama supporters and later supported Obama in the general election after he picked up Joe Biden as a running mate.
Sarah Palin Cited Her as an Inspiration. Speaking of the 2008 election: Sarah Palin made mention of both Ferraro and Hillary Clinton in her speech after presidential candidate John McCain announced Palin would be her running mate. Though Ferraro never wavered on her support for the Democratic ticket, she did acknowledge that it was a "win for women" to see Palin in the race. Ferraro said of herself in relation to Palin: "It's great to be the first, but I don't want to be the only. And so now it is wonderful to see a woman on a national ticket."
She Battled Blood Cancer for More than Twelve Years Before Passing Away in 2011. Ferraro was diagnosed with multiple myeloma in 1998 but did not publicly announce her illness until June 2001. Though initially only given three to five years to live, Ferraro succeeded in treatment and lived another 12 years before succumbing to the disease on March 26, 2011. During those years, Ferraro became a serious advocate of cancer research and women's health.