On October 2, 1967, Thurgood Marshall was sworn in as the first African-American justice to take a seat on the United States Supreme Court. Here are 5 things you probably didn't know about Thurgood Marshall...
Thurgood Marshall's Birth Name Was Thoroughgood.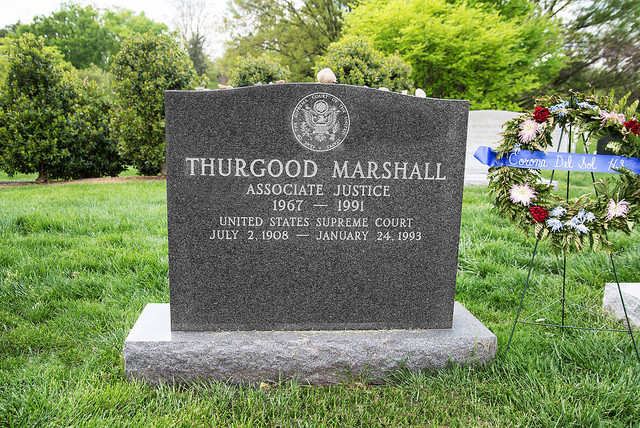 Thurgood Marshall is buried at Arlington National Cemetery. Thurgood Marshall was born Thoroughgood Marshall. He was named after his paternal grandfather, who had chosen the name "Thoroughgood" when he enlisted as a private in the Union Army during the Civil War. Marshall went by Thoroughgood until he shortened it to Thurgood in second grade, saying he "got tired of spelling all that out."
He Was Asked By The United Nations and United Kingdom To Help Write The Constitutions of Ghana and Tanzania. After they won independence from European imperial powers, Ghana and Tanzania were in need of a constitution. The UN and UK asked Thurgood for help – they felt that his success fighting for America's oppressed minority would help protect the rights of the minority white citizens in those nations. Both constitutions are still in use today.
He Has An Airport Named After Him
The major airport serving Baltimore and the Maryland suburbs of Washington, DC, was renamed the Baltimore-Washington International Thurgood Marshall Airport on October 1, 2005. The airport is named after Thurgood Marshall, a Baltimore native who became the first African American to serve on the Supreme Court of the United States. He would remain on the Supreme Court for 24 years before retiring for health reasons.
He Represented And Won More Cases Before The United States Supreme Court Than Any Other American. Arguing before the nation's highest court didn't faze Marshall. Before his nomination to the United States Supreme Court in 1967, he served as Solicitor General; during that time, Thurgood Marshall won 14 of the 19 cases he argued before the Supreme Court. Combine that with his many wins at SCOTUS as a lawyer for the NAACP and the NAACP Legal Defense and Educational Fund (he argued 32 cases and won 29) and Thurgood holds a record that's as unlikely to be broken.
He Was Voted "Least Likely to Succeed" Thurgood's friends describe him as loud and the life of the party. He joined Alpha Phi Alpha Fraternity, and enjoyed drinking, smoking, and playing cards. After joining the Alpha Phi Alphas, Marshall reveled in fraternity life. He pulled wild pranks on other students and was expelled for a short while when one went too far. His wild and boisterous behavior gave him the reputation as 'apparently the least likely to succeed' among his classmates. But Marshall turned his studies around quickly. He had a knack for debate, shined as an orator, and was known for his energetic football rally speeches.