On August 16, 1977, the King of Rock n' Roll took his last breath. Elvis Presley, just 42 years old, was found unconscious on the bathroom floor of his Memphis mansion, Graceland. Here are five shocking facts you probably didn't know about Elvis Presley...
Elvis Had a Twin Brother Who Died at Birth.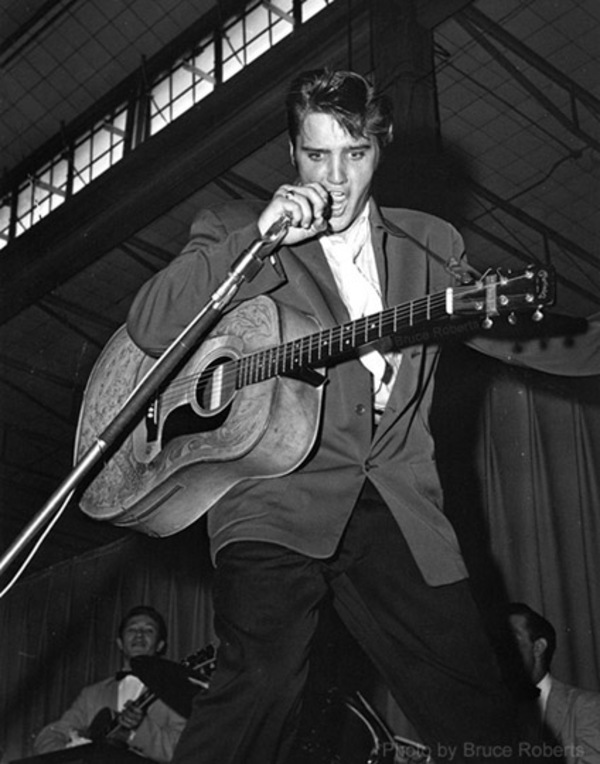 A photo of Elvis performing in 1960. Image source: WikiCommons Elvis Aaron Presley was born on January 8, 1935, just a half-hour after his mother gave birth to his twin brother, Jesse Garon. Sadly, Jesse was stillborn and buried the next day in an unmarked grave. Though Elvis never met Jesse in life, he spoke of his brother frequently. His mother, Gladys, often said Elvis had the energy of two people.
He was Just 22 Years Old When He Bought Graceland.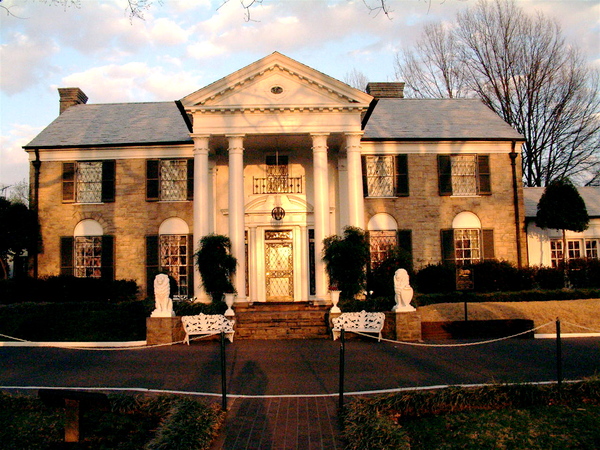 A shot of the front of Graceland. Image source: WikiCommons The Memphis estate that would be his home throughout the entirety of his career was originally built as a 500-acre farm dedicated to the owner's daughter, Grace. When Elvis acquired the home in 1957 at the young age of 22, he kept the name but made a number of upgrades including a "jungle room" with a working waterfall and a wall of televisions so Elvis could watch multiple broadcasts at once. Today, more than 600,000 fans flock to Graceland each year to tour the King's castle, but almost no one has ever seen his bedroom.
President Bill Clinton Was Denied Access to Elvis's Bedroom. Rumor has it that the heavily guarded room where Elvis spent his final hours remains in the exact condition it was in the night he died. Clothes remain in the drawers, sheets on the bed, and nothing touched. It's the holy grail for any Elvis fan, but almost no one has ever walked through the plush double doors. Only Elvis's family and the estate manager have keys to the padlocks, and when President Clinton toured the facility in the 1990s, he was denied access. Rumor has it there's only been one non-Presley to cross the threshold into the King's domain: actor Nicolas Cage. Cage married Elvis's daughter, Lisa Marie, and as the story goes, got a personal tour of the bedroom as his wedding present.
Elvis Once Flew To Denver for a Midnight Snack. No stranger to extravagance and a glutton for greasy food, Elvis spared no expense when it came to getting what he wanted—food included. And one night, after waxing nostalgic about a $50 sandwich he once had at a restaurant in Denver, Elvis and his entourage hopped on his private plane to go get one. The trip cost a whopping $16,000. Oh, and the sandwich? A full loaf of Italian bread sliced lengthwise, scooped out and filled with margarine, an entire jar of grape jam, an entire jar of peanut butter, and a pound of bacon, deep-fried.
Elvis Never Performed Outside of North America. Despite his immense popularity worldwide, the King never played outside our continent. In fact, despite the fact that 40 percent of his record sales came from outside the US, Elvis's only shows outside our country were a few scattered Canadian performances in 1957. There are several theories as to why, but the most prevailing is that Elvis's longtime controversial manager, Colonel Tom Parker, was actually an illegal immigrant who feared deportation if he left the United States.