On June 1, 1926, one of the most iconic actresses of the 20th century, Marilyn Monroe, was born in Los Angeles, California. Here are five interesting facts that even the paparazzi couldn't catch about Norma Jeane Baker and her famous moniker, Marilyn Monroe.
It's Rumored She Hooked Up With...Albert Einstein.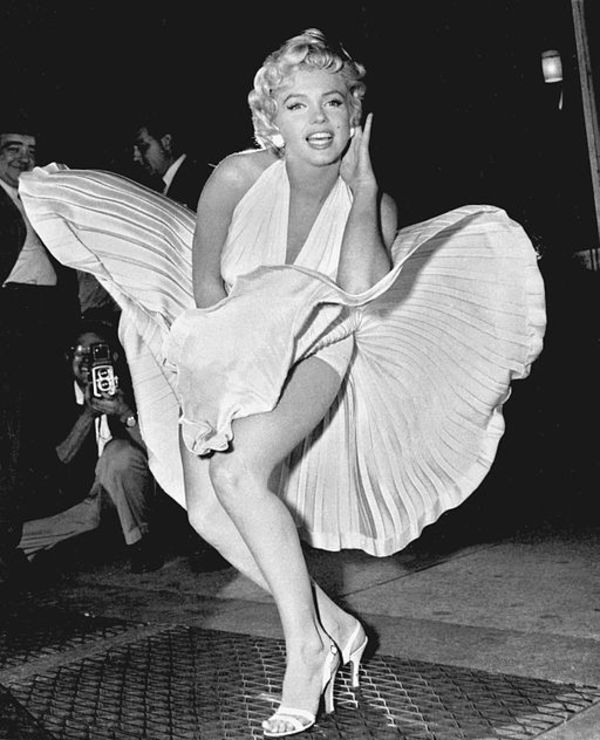 Marilyn at the 1954 promotional shoot for The Seven-Year Itch. Image source: WikiCommons There's no question that Monroe was one of the most desirable women in Hollywood during the 1950s and she surely could have had her pick of men. But according to a former roommate, Marilyn's taste for guys was a bit more eccentric than you might think. The two gals playfully made a list of their top male crushes while living together and Einstein was allegedly near the top of Monroe's list. Though it's never been confirmed, the roommate alludes to the hook-up in her autobiography, leaving us to wonder what may have happened between the Hollywood starlet and certifiable genius behind closed doors.
Hugh Hefner Snagged a Spot Next to Her for Eternity. Monroe famously graced the cover of the first ever Playboy magazine, and though she and Hefner never met during life, they'll be spending eternity next to each other in Westwood Cemetery in Hollywood. The plots next to Monroe have quite the history—Joe DiMaggio originally owned the crypt above her but sold it after their divorce to a hardcore Monroe fan that asked his wife to bury him face down so he could be on top of Monroe forever. Charming. Luckily, the wife turned him down and later sold the plot for $4.6 million...only to have the buyer back out last minute.
Britney Spears Owns a Pair of Her Levis. Monroe's closet has a history of selling for some pretty insane prices. Her spangled dress worn while singing "Happy Birthday" to Kennedy sold for well over $1.2 million, and the famous white dress worn in The Seven-Year Itch went for the same price as the crypt above her—$4.6 million. Tommy Hilfiger bought a pair of her Levis for $42,500 and then gifted them to a young Britney Spears. No word on how the fit looks on the pop princess.
Joe DiMaggio Had Roses Delivered to Her Grave Three Times a Week for 20 Years.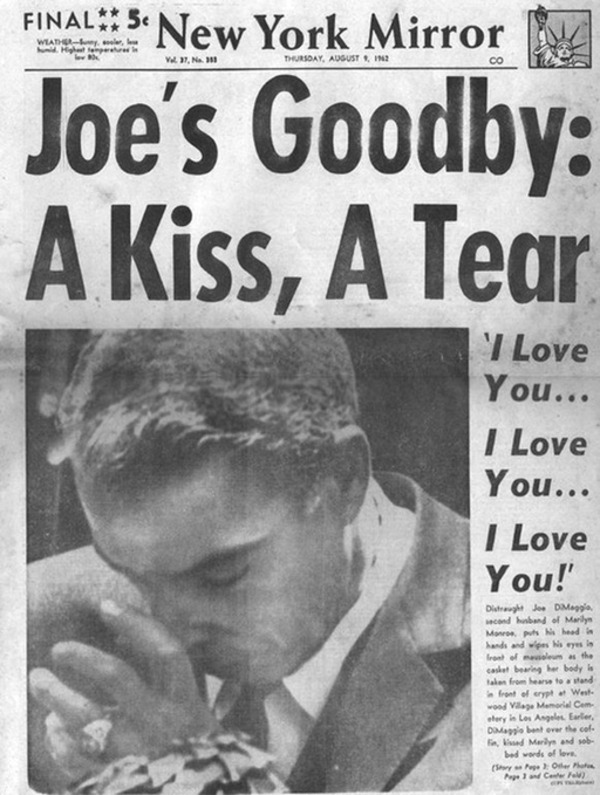 Cover of the New York Mirror showing a grieving Joe DiMaggio at the funeral of his late ex-wife. Image source: WikiCommons Despite the fact that they were only married for eight months, Monroe was the love of DiMaggio's life. He kept close tabs on her while she was alive, and the two remained "close friends." When Monroe was admitted to a psychiatric facility in 1961, it was DiMaggio who secured her release and brought her down to Florida to rest. And when she passed away the next year, DiMaggio arranged the funeral. For the next 20 years, DiMaggio had a half-dozen roses delivered to her grave three times a week.
She Was Actually Quite the Cook. Her former roommate (the same one who shed the dirt on her potential Einstein hook-up) claimed that she once asked Monroe to wash some lettuce only to find her scrubbing each individual leaf with a Brillo pad. While that may not sound like the behavior of a good cook (or a person with a 168 IQ), she was actually quite talented in the kitchen. In 2010, The New York Times published and tried out her recipe for Thanksgiving stuffing and the paper was pleasantly surprised with the result. They called the recipe "intricate" and declared her quite the confident cook!