January 6 is a celebratory day in American presidential history. No, it's not anyone's birthday or a recognition for winning a historic battle. Instead, it's a celebration of love. On January 6, 1759, President George Washington married his lifelong partner, Martha Dandridge Custis Washington. Nearly 200 years later, another future president, George H.W. Bush, married his sweetheart, Barbara Pierce Bush, on the same date in 1945. Test your knowledge of the two presidential couples that said, "I Do" on January 6th with these trivia questions...
Which Couple Was Married for Longer?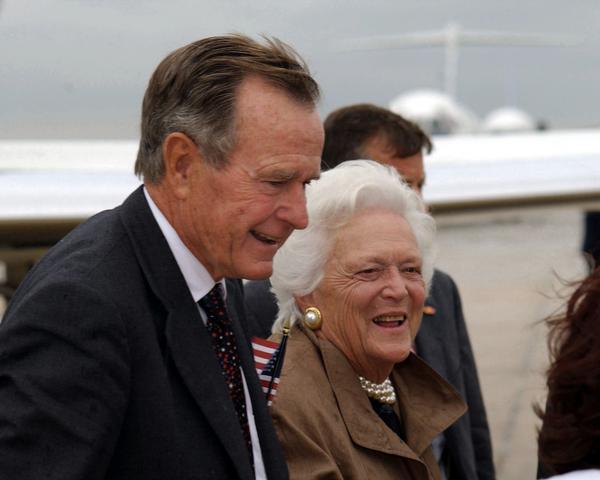 George H.W. Bush and Barbara Pierce Bush. Image Source: WikiCommons The Washingtons had been married for 40 years when George passed away in 1799: a long, fruitful marriage that in most circles would certainly be a winner. But the Bushes have the Washingtons beat by a mile: this year marks their 73rd wedding anniversary! And they are still going strong—George Bush is 93 years old and Barbara Bush is just one year behind him at 92. Which brings up an important point in their "victory": the life expectancy today far exceeds what the Washingtons could have expected in their time period. The average life expectancy in the 1700s was around 58 years (when you cut out infant mortality). Today, it's 20 years longer at 78 years. So, if the Washingtons were alive today, they could've had a better chance of coming out on top!
Which of the Future First Ladies had Two Children From a Previous Marriage When She Married?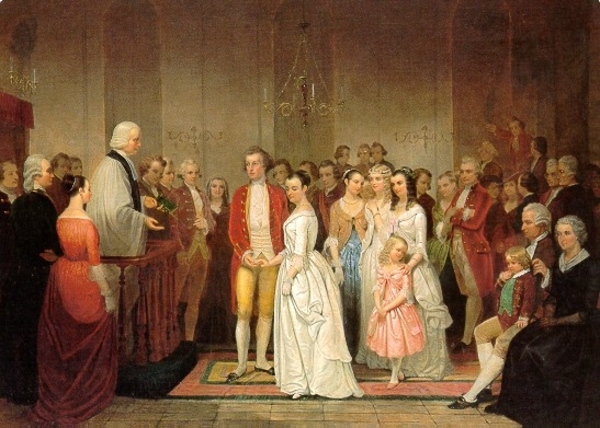 "The Marriage of Washington" by Junius Brutus Stearns (1849). Image Source: Athenaeum That would be Martha Washington. Martha married her first husband, Daniel Parke Custis, in 1750. The couple had a total of four children together, though the first two—Daniel and Frances—did not make it to five-years-old. Martha became a widow in 1757, at the age of 26, when her husband fell ill and passed away. As a widow with two young children and an estate worth more than £40,000, Martha had a lot on her hands. So, when she met the future president a little over a year later, the two quickly began making plans for their future together. Though the Washingtons never had any children together, George fully embraced his two adopted children and loved them as his own.
Where Did George and Barbara Bush First Meet? The couple first met at a school dance during Christmas vacation when the future president was 16 and his future wife just 15. The two began a long-distance courtship that extended into Bush's military career. At the age of 18, Bush became the youngest pilot in the US Navy and was immediately deployed to the Pacific theater where he named three of his planes after his bride-to-be back home. Bush became a decorated war hero and was discharged from the Navy in September 1945—shortly after, the two were married on January 6, 1945. Barbara has been quoted as saying she "married the first man [she] ever kissed."
Which First Lady Made Literacy a Major Initiative of Her Time in the White House? Barbara Bush started The Barbara Bush Foundation for Family Literacy during her tenure as First Lady of the United States. The nonprofit focuses on helping parents and children learn more together through literacy initiatives. As the former First Lady states, ""the American Dream is about equal opportunity for everyone who works hard. If we don't give everyone the ability to simply read and write, then we aren't giving everyone an equal chance to succeed." Bush remains actively involved in the foundation even today.