On October 1,1962, Johnny Carson made his debut as The Tonight Show host, a career that would span decades. Check out the following things you probably didn't know about talk show host Johnny Carson...
Groucho Marx Introduced Carson as the New Host of the Show On Carson's first night as host of the show, replacing Jack Paar, he was introduced by legendary comedian Groucho Marx, age 72. Six years later, Marx honored Carson at a roast held at the Friars' Club in New York. Guests appearing on Carson's opening show were Tony Bennett, Joan Crawford, Rudy Vallee and a new comedy writer, Mel Brooks.
Carson Accidentally Caused a Nationwide Shortage of Toilet Paper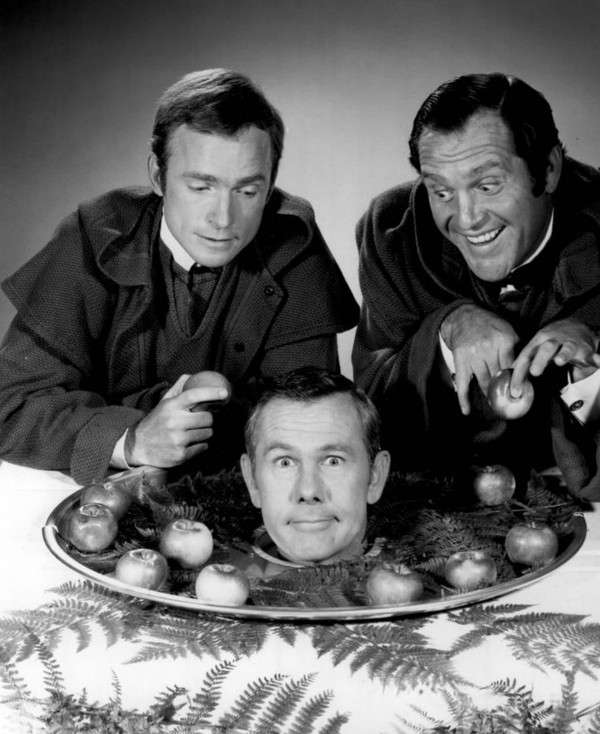 This publicity photo was taken for the 1968 Friar's Club Roast. The two men behind a plated Carson are Dick Cavett and comedian Alan King. Image source: WikiCommons After reading aloud an article about a shortage of toilet paper in 1973 and making jokes about it on air, Carson accidentally contributed to a shortage of America's favorite use for wood pulp around the country. Shortages of gasoline and onions were happening in 1973, so the public rushed out and bought toilet paper after Carson's segment, causing another shortage. Some stores even began rationing the precious paper by the end of the year.
Carson Assisted Orson Welles in a Magic Act During World War II In 1943, Carson, 18, went into the U.S. Navy where he was assigned work in communications decoding encrypted messages. He performed magic as a hobby, usually for shipmates, but was invited to perform as an assistant to Orson Welles during a performance to entertain the troops aboard the U.S.S. Pennsylvania. Welles was also assisted by his beautiful wife, Rita Hayworth, whom he cut in half during his magic act.
Appearances on The Tonight Show Launched a Lot of Careers The show was such a success it was renamed The Tonight Show Starring Johnny Carson, and Carson was responsible for launching many careers throughout his 30 years on the show. Carson was responsible for helping to launch big names such as David Letterman, Tim Allen, Joan Rivers and Ellen Degeneres to Jeff Foxworthy and Jerry Seinfeld, to stardom.
Comic Actor Bob Crane Was Offered the Job as Host of The Tonight Show Crane had worked interviewing celebrities for several years on KNX-CBS Radio in Los Angeles. He was offered a number of jobs as a talk-show host on television, including The Tonight Show to replace Jack Paar, which he turned down. However, he did appear on the show as a guest and hosted as a fill-in for Johnny Carson from time to time.