On this day in 1967, Thurgood Marshall was confirmed as a Supreme Court justice. He was the first African American to serve on the court and had been nominated by President Lyndon Johnson. Here are 5 things you probably didn't know about Thurgood Marshall...
The University of Maryland's Law Library Is Named After Marshall, but Years Earlier, the School Had Turned Him Away Because of His Race.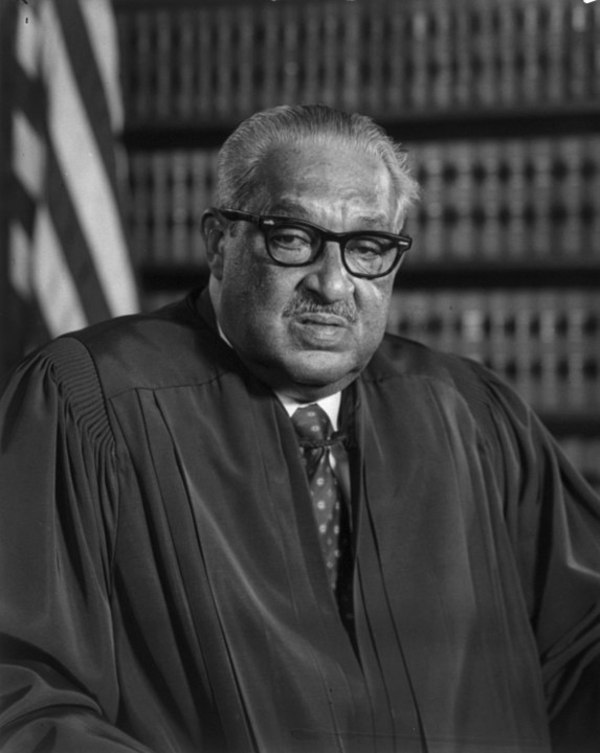 Photo credit: By This image is available from the United States Library of Congress's Prints and Photographs divisionunder the digital ID cph.3b07878. When Marshall first applied to law school in 1930, he tried to get into the University of Maryland Law School but was turned down because of his race. He went to Howard University Law School instead, and in 1935, managed to sue the University of Maryland in another racial-discrimination case, this time for an African American man named Donald Murray. Marshall won his case, forcing the desegregation of the University of Maryland Law School. The law school's library is now named after Marshall.
He Was the Chief Attorney for the Plaintiffs in Brown vs. Board of Education of Topeka. Marshall developed a reputation as a very good lawyer able to pursue civil rights cases with much success. He won the majority of his cases, including the case of Brown vs. Board of Education of Topeka in 1952. The case actually included five separate cases and, at first, didn't look like it would succeed. The case had gone before the Supreme Court, which in 1952 was led by Chief Justice Fred M. Vinson. Vinson felt that a previous ruling from the 1800s known as Plessy should stand; Plessy gave rise to the concept of "separate but equal," which had been sorely abused and used to justify segregation. However, Vinson died in 1953, before the case was decided. His replacement was Earl Warren, who supported Marshall's arguments. The court ruled in favor of Marshall and the plaintiffs in 1955.
He Was Asked By The United Nations and United Kingdom To Help Write The Constitutions of Ghana and Tanzania. After they won independence from European imperial powers, Ghana and Tanzania were in need of a constitution. The UN and UK asked Thurgood for help – they felt that his success fighting for America's oppressed minority would help protect the rights of the minority white citizens in those nations. Both constitutions are still in use today.
Marshall's Confirmation Led to Massive Growth in Law School Application Numbers for African Americans. Marshall's ascent to the Supreme Court really opened the figurative door for the African American community. While African Americans had long applied to law schools before his nomination and confirmation, after 1967 there was a huge spike in applications made by African Americans to law schools across the country.
He Was Voted "Least Likely to Succeed" Thurgood's friends describe him as loud and the life of the party. He joined Alpha Phi Alpha Fraternity, and enjoyed drinking, smoking, and playing cards. After joining the Alpha Phi Alphas, Marshall reveled in fraternity life. He pulled wild pranks on other students and was expelled for a short while when one went too far. His wild and boisterous behavior gave him the reputation as 'apparently the least likely to succeed' among his classmates. But Marshall turned his studies around quickly. He had a knack for debate, shined as an orator, and was known for his energetic football rally speeches.