On October 2, 1950, the comic strip "Peanuts" by Charles M. Schulz premiered in 9 newspapers. Here are five things you didn't know about one of the most popular and influential comic strips of all time...
Schulz Didn't Choose the Comic Strip's Name
Schulz had originally named his comic strip starring Charlie Brown as "Li'l Folks," but when he checked into having it syndicated in 1950, the people who ran it didn't like that name because there were several others that were similar. So, they changed the name to "Peanuts." Schulz never approved of the name because he thought it sounded insignificant. Even after the comic strip became a huge success, Schulz said he wanted the cartoon to be called "Good Old Charlie Brown."
Schulz's High School Yearbook Committee Rejected His Artwork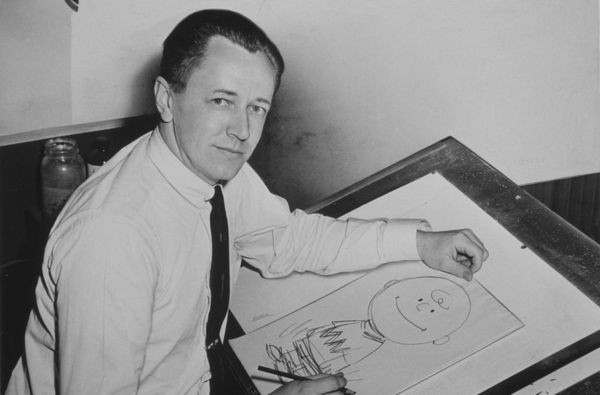 Schulz wasn't a particularly good student when he attended high school at St. Paul, Minnesota, failing in his English, Latin, physics and algebra classes. However, a drawing he made at age 15 of a dog was accepted by Ripley's Believe It or Not! and was published in its newspaper. While in high school in St. Paul, Minnesota, he submitted a drawing to the yearbook committee, but apparently, committee members didn't consider it appropriate to publish. Now, that same high school in St. Paul has a 5-foot tall statue placed in the main office at the school entitled "Scholar Snoopy."
Characters in the Comic Strip Were Named for Real People The character of Charlie Brown was based on Schulz himself, while Snoopy was based on Spike, a dog he had when he was a teenager. The little red-headed girl was named after a woman Schulz worked with, even though she became involved with another man and broke the cartoonist's heart. Woodstock, the little yellow bird, was named for the famous music festival, and Patty was modeled after a cousin of Schulz.
The "Peanuts" Gang Has Grown Over the Years The original characters in the syndicated strip "Peanuts" included only Charlie Brown, Patty (not the same one as Peppermint Patty) and Shermy, with Snoopy the beagle added two days later. Violet and Schroeder were added in 1951, followed by security-blanket-toting Linus and his sister Lucy in 1952. Pig Pen joined the gang in 1954, Sally in 1959, Peppermint Patty in 1966 and Franklin in 1968.
Executives at CBS Really Hated the Charlie Brown Christmas Special "A Charlie Brown Christmas" was shown on December 9, 1965, and has since become a happy holiday tradition for multiple generations. Executives at CBS didn't like much of anything about the program, from using children's voices to the fact that it involved religion. They even considered not airing it at all. The cartoon ended up winning a Primetime Emmy for Outstanding Children's Programming and a Peabody Award, along with other nominations.