On September 10, 2000, the long-running musical Cats ended its spectacular 18-year run on Broadway. Andrew Lloyd Webber's musical was popular on both sides of the Atlantic and brought a literary classic into modern view. Here are five things you didn't know about Cats, the Musical...
Cats Almost Included Dogs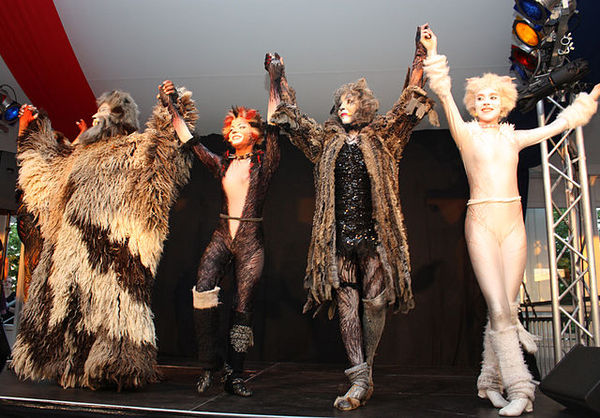 The Jellicle cats in T.S. Eliot's original story, upon which Cats was based, almost had canine companions called Pollicle dogs. He wanted to include both animals in his book of poetry but found that he had a harder time writing about the dogs than the cats. Correspondence shows the gradual decline of his confidence in creating satisfactory poetry about the dogs, and eventually, he wrote that he had to set the dogs aside and concentrate only on the cats in his book.
Cats Wasn't Too Popular With Investors Before It Took Off No one on the investment side -- play producers need investors to back productions financially -- was too enthused about a show about cats. Despite T.S. Eliot's popularity and how well-liked his book of cat poetry was, a whole musical about cats just didn't seem like a winner. Andrew Lloyd Webber had to mortgage his house to support the show. Luckily for him, that paid off handsomely, with Cats becoming one of the longest-running musicals in both the U.S. and the U.K.
One Performance Had an Alleged #MeToo Moment A performance in January 1997 left one audience member irate -- and suing the production for $6 million -- because Rum Tum Tugger got a little too up close and personal. Cats cast members were known for involving the audience on occasion, such as through dancing or actually sitting among the audience as the show started. One cat, Rum Tum Tugger, allegedly tried to pull Evelyn Amato out of her chair; according to a letter she sent as a complaint, she repeatedly yelled no and felt the pulling motion was way too aggressive. She then claimed that the actor gyrated his hips in her face and grabbed her head, moving it from side to side. The case didn't make it to trial, and the actor in question was no longer with the show.
The Cats in the Original Broadway Performance Actually Had Yak Hair Despite the copious amounts of fur that your cat seems to shed on you whenever you dress up, or the "second cats" that appear after a brushing session, you can't get enough fur from a cat to create a human-sized cat costume. For a show as large as Cats that would require enough hair for all the costumes plus extra hair for repairs, another source is necessary. In the case of the original Broadway production, that source was yak hair -- more than 3,000 pounds of it.
The Revivals Have Sometimes Shaken Things Up Cats ended its main run in 2000, but it has been revived in recent years with some changes. One change was that the character of Rum Tum Tugger became a hip-hop-style, rapping cat; another production had Grumpy Cat guest-starring as an honorary Jellicle cat. A movie in the works uses digital effects to create the fur that actors will wear (much to viewers' dismay, as the effects were called "creepy"). The core of the story and the lyrics remain the same, but new producers are no doubt going to experiment further with the musical.